This shop has been compensated by Collective Bias, Inc. and its advertiser. All opinions are mine alone. #DineALaCat #CollectiveBias

About 6 weeks ago, after a lot of begging for a pet from our kids, we adopted two kittens. I needed a pet that was on the low maintenance end of the pet spectrum but I knew my kids wanted something cuddly. Adopting a kitten was the perfect match for our needs. And the week before we went to pick up our new kitten we decided to adopt two. So in mid-July we brought home two grey kittens, a brother and sister duo we named  Dusty and Pearl.
The kittens had been living in a barn and hadn't spent a ton of time around people, so they were skittish at first. But after a week or two they slowly started to warm to us. The boys all love them so much and wanted to hold them 24/7. Calvin wanted to be with them constantly and Quincy didn't know how to be gentle yet. But it wasn't long before we were all one big happy family.
After a couple of weeks we started to find our stride with our new little furry family members. They made us all laugh and smile and brought joy to our family. Charlie took on a bit of responsibility, as he helps me feed them each day. Calvin was so happy because he had been asking for a kitty for a good year since we moved. And Quincy learned how to be gentle and to restrain himself a bit, since he loved them so much he wanted to squeeze them. Dusty and Pearl complemented our family's needs perfectly and filled that pet void without adding to the burden or chaos that a family of five already has.
Choosing to get two kittens was such a great idea and I highly recommend it for anyone thinking of adopting a cat. They had each other two play and snuggle with in the early days and still play and cuddle with each other all the time. They learn for each other, wrestle and chase each other, and keep each other from getting lonely when we're sleeping or if we're gone for the weekend or the day. They also have very different personalities. Dusty is very curious and playful but has such a sweet disposition. Pearl is more cuddly but likes her alone time too — she is still a bit shy and skittish. These two different personalities fit the different needs of our family. Sometimes we want to play with the kitties and sometimes we want to cuddle up together. Dusty and Pearl are always happy to accommodate.
Truth be told, I am a cat lover and always have been. I've wanted a family cat for a while, but my husband is allergic. But our kids begged and begged and he finally agreed. So while the cats are loved by our kids, I love them just as much. When everyone is in bed they curl up on my lap while I'm watching TV or working on the couch. They are the sweetest (and quietest!) little sidekicks and bring peace and calm to my days that can sometimes be chaotic and overwhelming as a mom of three boys. They are so well behaved, take very little effort to care for, and complement our lifestyle so well. And my husband has fallen in love with them too. Luckily, since we got them as kittens, he has adapted to them pretty quickly and his allergies haven't been a problem at all. I also vacuum our floors daily, which probably helps too.
Some of our kitties' favorite things: cuddling on our grey blanket (they love to suckle it and fall asleep), little toys that have feathers and bells and mice toys with long string tails, sleeping in their bumper bed, and eating Purina Fancy Feast®  food. Their favorites are the Purina Fancy Feast® Gourmet Naturals dry food, Broths, Natural Tuna Filets. They like to have the dry food regularly, and I like how easy it is for my son to help me feed them. But sometimes I will give them the Broths or Filets to give them a special treat — the kitty version of fine dining.
The Broths make a great between meals snack. I just put one in a bowl and both kitties take turns and share the snack. With the Filets you can either serve whole, flaked, or add it to the cat's dry food for a complete meal. I usually add it to the dry food, which is the way they seem to like it best as well.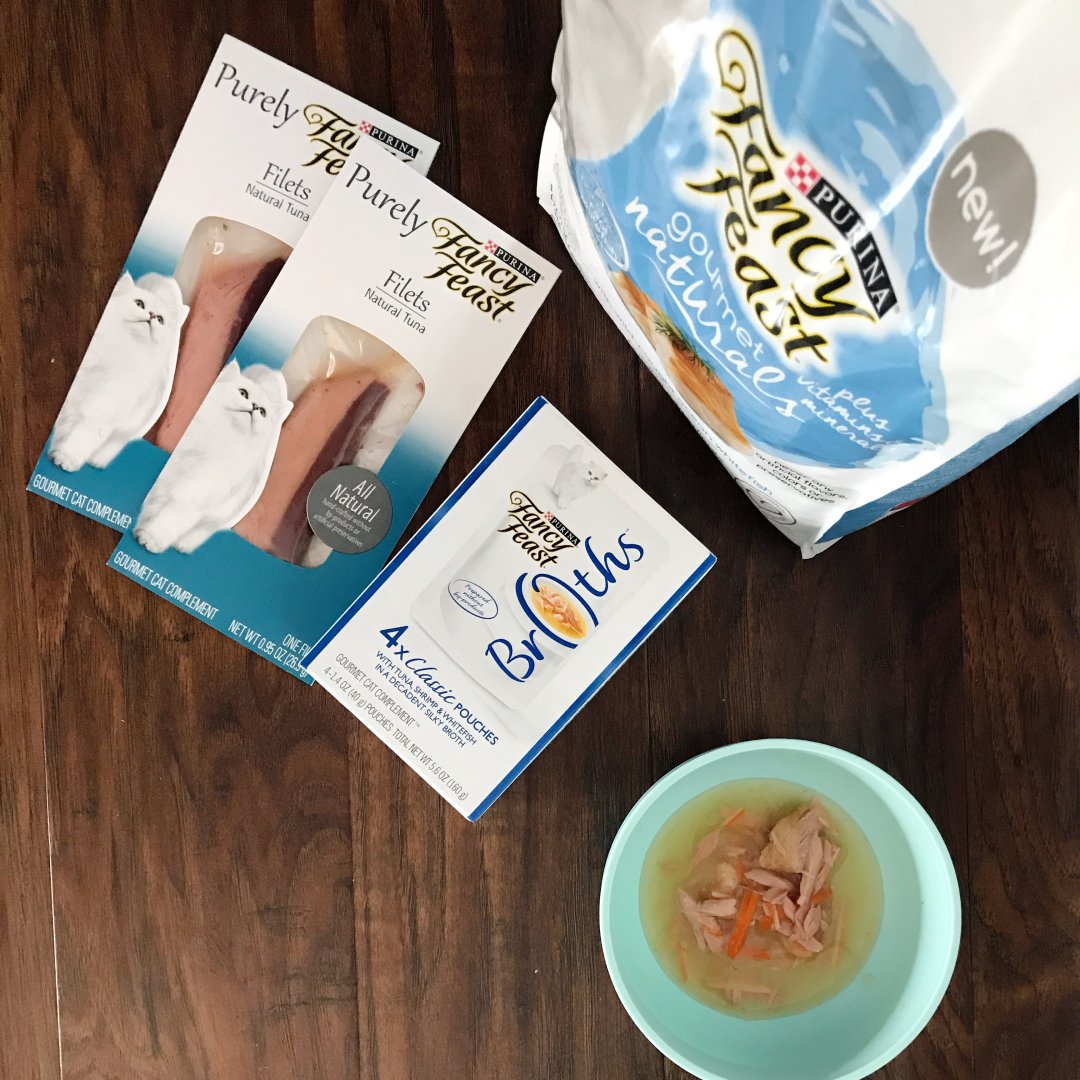 We get our cat food supplies at our local PetSmart. I love how I can find anything we need for our pets all in one place and they are always well stocked with Dusty and Pearl's favorite Purina Fancy Feast® flavors. And their customer service is fantastic — there is always someone around to assist me in finding something or to answer a question. It is an enjoyable shopping experience from start to finish.
Beginning on 9/5, you can earn cash back when you buy any two (2) Purely Fancy Feast® Filets, for a limited time. So now is the perfect time to stock up at PetSmart and spoil your own kitty with Fancy Feast® Filets and Broths.
We sure do love how these kitties of ours have complemented our family and we only hope they feel as spoiled and loved by us as much as we are by them.
SaveSave
SaveSave
SaveSave