I am a member of the Collective Bias Social Fabric Community. This post has been compensated by Collective Bias, Inc. and its advertiser. All opinions are mine alone. #GiftingforBaby #CollectiveBias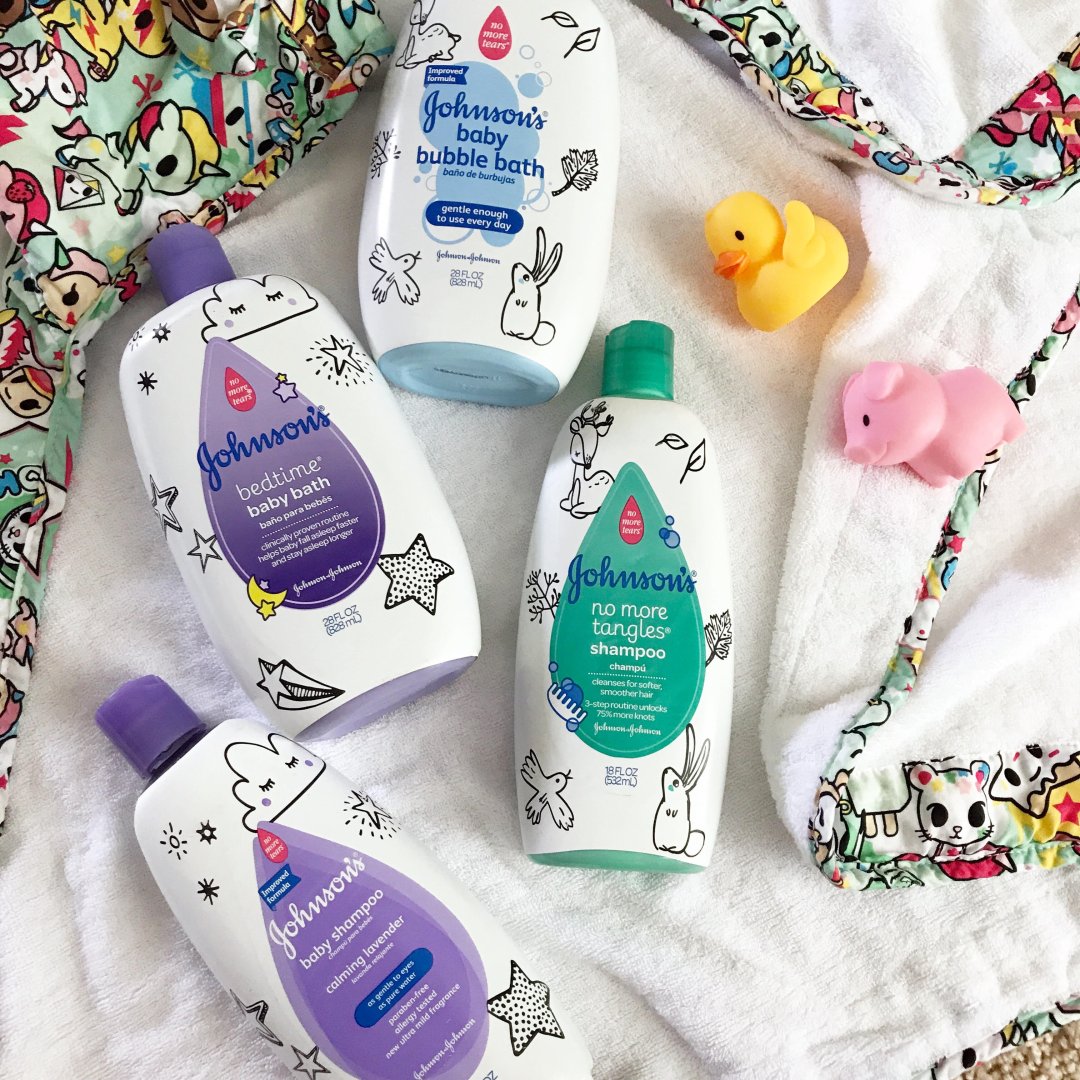 When you have multiple kids, the bath time and bedtime routine can be quite hard to manage, especially if you are doing it alone and without help. If you follow me here or on Instagram, you know that I recently moved across the country and my husband had to stay behind to finish up some work. So I've been doing the solo parenting thing for a couple months and really had to simplify things as much as possible to get all my kids to bed successfully and at a reasonable hour. One of the hardest tasks has always been the bath/book/bed routine. While my oldest has become very self-sufficient since we moved, I still have two toddlers to juggle on my own. Which is why anything that helps do two jobs at once has become a lifesaver for me.
I usually bathe the kids together, but sometimes I tandem bathe them one right after the other. Either way, they are using the same bath water (unless one was especially dirty or had a dreaded potty accident in the tub) and bath products. Calvin has sensitive skin and many products I've used in the past dry his skin out or cause him to break out in itchy bumps. Quincy, on the other hand, has perfect skin that requires no special products. That is why I love Johnson's Baby Products. They follow Best for Baby standards and have no parabens, no phthalates, and are hypoallergenic. Safety is their #1 priority, and I love that since it is also my #1 priority for my own babies. They are safe enough to use on newborns but fun enough that you'll use them well past the baby and toddler phase.
Thanks to those safety standards, I can use the same products on both Calvin and Quincy (and even though Charlie is a bit older he uses them too!) I especially love the Bedtime Bath Wash and Bedtime Lotion because their lavender scent is perfect to help calm my crazy boys before bed. Another favorite of mine is the No More Tangles Shampoo because it is gentle and cleansing but makes combing through Calvin's usually tangly and knotted hair so much easier. The boys' favorite product is Johnson's Baby Bubble Bath. Instead of forcing them to take a bath, they ask me if they can have a bubble bath!
I also love the adorably designed packaging, which is available exclusively at Target. Look for it at a special aisle endcap in the baby section or you can click directly on my first image to purchase it online. But in case you're anything like me (and I would bet that you are) Target is your happy place and you'll be adding this to your in-person shopping list 🙂 You can also add it to your Target Baby Registry or buy it for someone expecting a baby because that packaging makes for such a cute gift and we all know you can never have enough bath stuff for baby, whether it is your first child or your third.
How do you juggle bath and bedtime with your kids, especially if you have more than one? Do you have any tried and true tricks or products that make your life easier?
SaveSave
SaveSaveSaveSave
SaveSave
SaveSave
SaveSave
SaveSaveSaveSave
SaveSave
SaveSave
SaveSave
SaveSave